Trusted Paving Stone Professionals in Lethbridge
When installed by the professionals at Solterra Landscape, paving stones can help turn an empty backyard into an inviting oasis. They can make a walkway beautiful, turn a simple grass lawn into a patio where you enjoy your morning coffee, and truly help you make the most of your life at home.
Professional Paving Stone Design, Construction, and Maintenance
Like just about any home improvement or landscaping project, installing paving stones looks like a simple and easy job on TV or YouTube videos. As usual, real life is a different matter altogether, and even The Home Depot advises that installing paving stones has a difficulty rating of intermediate and they recommend taking several days to complete the project. Special tools are needed, heavy materials such as sand and paving stones need to be delivered to your home, and the list goes on.
In other words, it is best to trust the construction of your patio stone project to the professionals at Solterra Landscape. Advantages of choosing us include:
Save a Ton of Time When you choose us to complete your paving stone project, not only do we do the job itself, but we source the stones and other materials needed and order the right amount. That saves you the hassle of making several trips and worrying about purchasing the right amount of stones, sand, and edging.
Save Your Back! A patio stone project is a physically demanding project, especially when done in the hot summer sun. It involves removing grass and dirt, lifting bags of sand and paving stones, using a compactor, being on your hands and knees… …well, you get the idea.
Enjoy a Better, Professional Finish That Last Longer As professionals with over 15 years of experience installing paving stones, we know the pitfalls to avoid and how to avoid mistakes that DIYers tend to make. We also work more efficiently, do a quality job that stands up to southern Alberta weather for years to come.
We Install All Kinds of Paving Stones
There are countless varieties of paving stones available these days, with more and new varieties coming to market all the time. From natural stone to concrete, there's a material that is just right for your walkway or patio. Natural stone, concrete, and rubber are popular choices for materials, but certainly, there are more. There's a kaleidoscope of colours available as well, and at Solterra we can help you decide which paving stones are right for your application.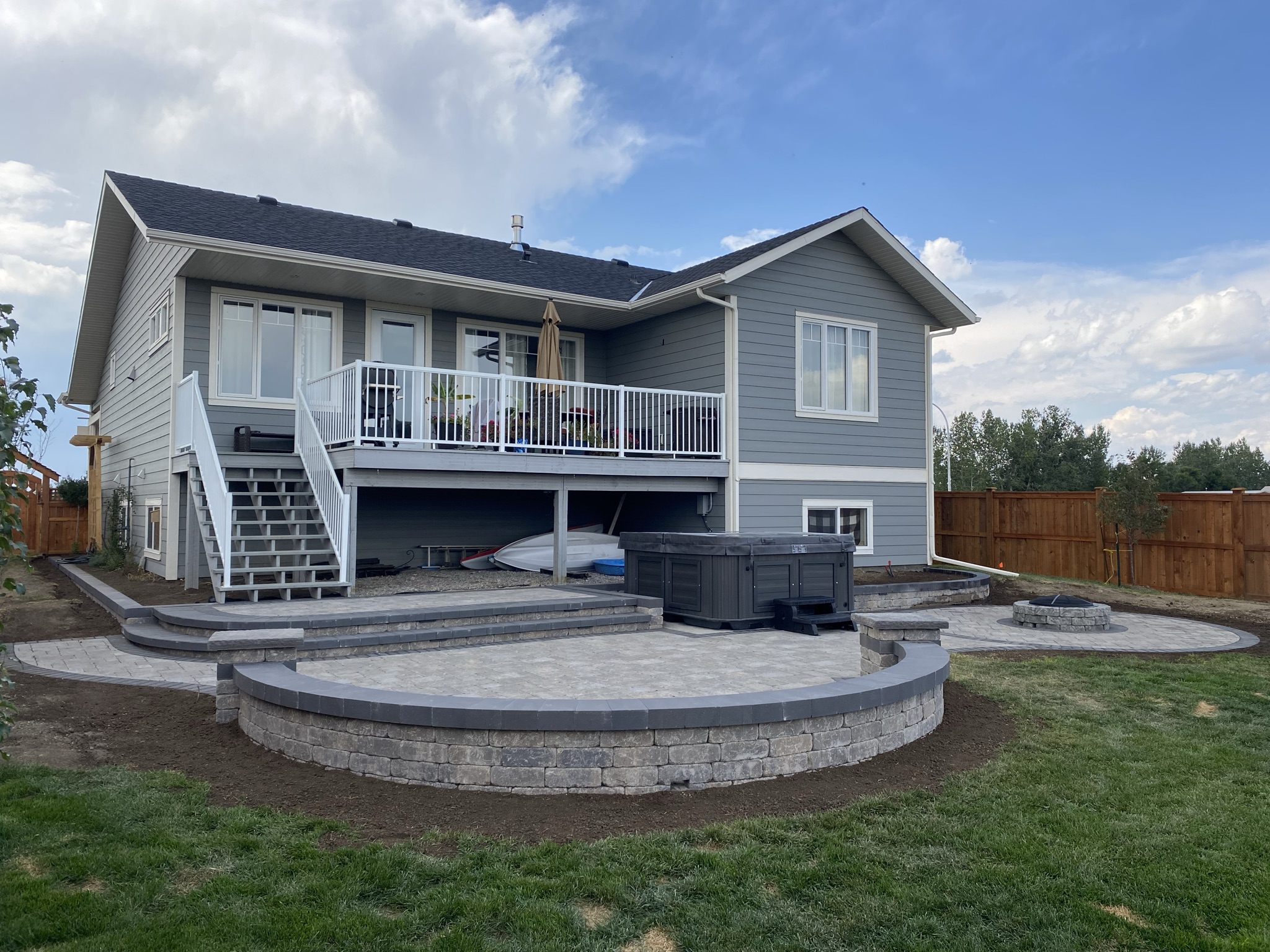 Contact Us for Your Paving Stone Project
As professionals, Solterra Landscape offers design, construction, and maintenance of paving stones. We take the time to answer all your questions and address all your concerns, complete your project according to your schedule and offer a quote that we consider extremely fair. Contact us today to learn more about your paving stone options.